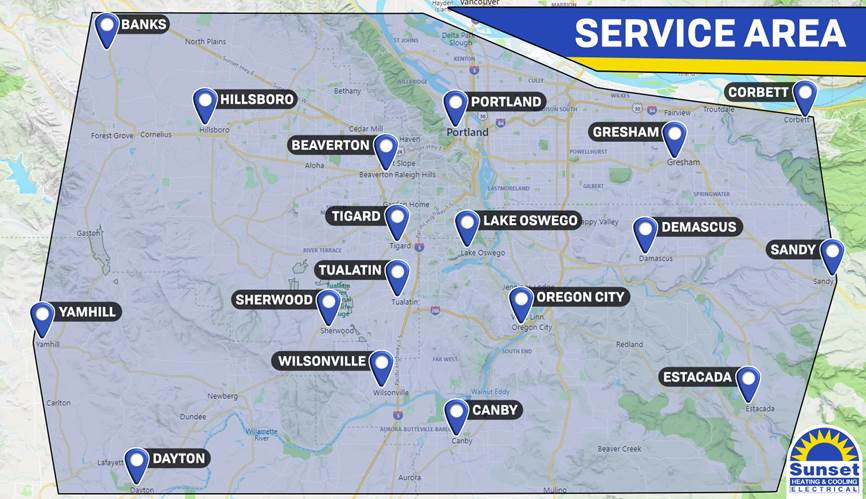 Owning a home is an amazing achievement, but also one that can lead to major stress. When something goes wrong in your home, like an air conditioner that won't turn on, it can seem like a challenge to find the right company.
At Sunset Heating & Cooling, we make that decision simple and convenient. Serving homeowners in Portland, OR and the surrounding areas since 1922, we've provided customers with quality heating and cooling solutions when they needed it most. Now we serve many communities throughout the area and always aim to provide 100% customer satisfaction. Feel free to contact us with any questions you have about our HVAC service area.
Want to avoid costly emergency repairs? Be sure to schedule an annual furnace tune-up before the winter season, and enjoy peace of mind in your home.
Reliable Solutions Are a Call Away
Our customers have put their trust in our staff for 100 years because they know we can handle anything. As your dependable heating and cooling company, we offer a range of services including:
AC Repairs
Zoned HVAC Systems
Furnace Tune-Ups
Heater Replacements
Ductless Mini Split AC installations
And More!
No matter your needs, you can count on our central HVAC service company to get your home back up and running as quickly as possible. Our technicians always start with a thorough inspection process to find the location of the issue. Once found, we offer a viable repair or replacement solution that works with your home needs and budget in mind!
We Work in Your Neighborhood
At Sunset Heating & Cooling, we do our best to provide customer care to every homeowner that needs it. We've been working in the Portland, OR area since 1922, and have steadily grown and helped more homeowners throughout the area.
Looking for reliable solutions for your home? We work in the following areas:
Whether it's an air conditioner that's blowing hot air, a furnace that won't turn on, or general upkeep and maintenance, you can count on our HVAC contractors to keep your home comfortable and your family safe.
Want to be sure you avoid those stressful AC emergencies? Schedule an air conditioner tune-up with our pros today, and enjoy peace of mind all summer.
Call Us Today!
At Sunset Heating & Cooling, we're dedicated to providing the very best customer care possible. Got an air conditioner that won't turn on? Worried that your heater won't make it through another winter? When you need us most, we're there to help with friendly staff, personalized solutions, and exceptional services backed by 100 years of experience!